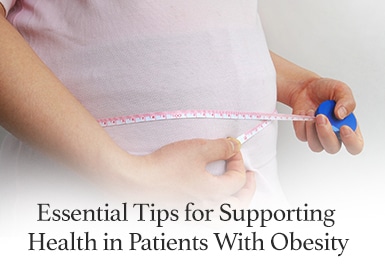 Decadent holiday meals can tempt even the most disciplined individuals to overeat and, for those who are obese, excessive eating during the holidays can exacerbate existing co-morbidities. Oral health professionals can help their patients with obesity move toward better nutrition and oral habits by using specialized dialogue and clinical skills tailored to this population.
Obesity has been trending upward in the United States for the past three decades. In 1989, government data reported obesity prevalence for all states at below 15%, yet by 2016, the prevalence of obesity among US adults had reached nearly 40%.1,2 Obesity has serious health risks, including comorbidities such as arterial hypertension, type 2 diabetes mellitus, atherosclerosis, and cardiovascular diseases.3 Studies also suggest that obesity is a risk factor for periodontitis and that individuals with obesity develop periodontitis at a rate 1.8 times higher than normal weight individuals.4,5
Science and Sensitivity
Obesity is a common and preventable disease but educating this population about making changes that will improve oral health without sounding harsh or judgmental is not easy.6 Casey Hein, BSDH, RDH, MBA, an educator, researcher, author, and speaker, describes the difficulty of talking to patients about obesity this way: "The most challenging part of obesity intervention is starting the conversation. However, research7 suggests that if we are trained properly and participate in weight management intervention-including teaching/motivating patients toward physical activity and healthy eating practices, using behavioral modification techniques, and making appropriate referrals-front line providers such as dental hygienists can make a difference."
One approach Hein recommends to make the conversation less upsetting is to frame it with credibility and sensitivity. Beginning the conversation with the science of obesity and the specific relationship between obesity and periodontal diseases, she says, will help engender credibility. "A little bit of self-disclosure can be a very effective tool for starting this conversation," Hein adds. "So saying something like, 'You know, about a year ago my internist told me I needed to start the South Beach Diet and start looking at my glycemic index,' can help the patient better relate to the clinician."
Visual Cues
Identifying patients who are obese may not always be clear-cut. One approach is to use calculations related to body mass index (BMI), but certain visual cues may also suggest which patients have obesity and should be included in these conversations. "Body morphology can tell us a lot. Look at patients as they enter the operatory: are they apple-shaped or pear-shaped? An apple-shaped physique denotes visceral fat distribution (high waist circumference) and risk for metabolic syndrome," Hein explains. "This magic number is more than 40 inches for men, and more than 35 inches for women," she adds.
Children at Risk
Obesity affects children as well as adults and, according to Kevin J. Donly, DDS, MS, president of the American Academy of Pediatric Dentistry, the top concern when treating pediatric patients is the status of their overall health. Donly notes that obesity-related systemic health risks exist among children of a wide age range. He says older children with obesity may be diagnosed or undiagnosed with diabetes, while younger children may have high cholesterol levels that can increase the risk of diabetes.
By checking a child's BMI and discovering whose measures exceed the 90% level, Donly says, oral health professionals can refer those patients to have their cholesterol levels checked and receive treatment. There is also a significant difference in the way obesity affects the oral health of pediatric patients compared with adults which, Donly explains, comes down to a matter of physical size.
"Because children have a shorter stature than adults, it can be difficult to position the child to easily and comfortably work in the oral cavity," Donly says. Because of this, he adds, prevention is critically important because these children are difficult to intubate should they need dental care provided under general anesthesia.
Steering Patients to Health
This is especially true, according to Linda Boyd, RDH, RD, EdD, professor and associate dean of graduate studies at Forsyth School of Dental Hygiene at the Massachusetts College of Pharmacy and Health Sciences, for children who have special needs and tend to have a higher risk for obesity. Children with Down syndrome in particular have a tendency toward obesity, and a 2016 literature review found the prevalence of overweight and obesity among youth with Down syndrome was between 23% and 70%.8
Obesity rates show no sign of slowing but oral health professionals can help patients with obesity make strides toward long-term changes. By steering choices in nutrition, offering simple assessment measures, and facilitating supportive conversations, dental hygienists can be a trusted ally in their patients' search for better health.
References
1. United States Centers for Disease Control and Prevention. National Center for Health Statistics Data Brief No 128. Available: Click here. Accessed November 15, 2019.
2. US Centers for Disease Control and Prevention. Adult Obesity Facts. Available: Click here. Accessed November 15, 2019.
3. Pischon N, Heng N, Bernimoulin JP, Kleber BM, Willich SN, Pischon T. Obesity, inflammation, and periodontal disease. J Dent Res. 2007;86:400-409.
4. Dahiya P, Kamal R, Gupt R. Obesity, periodontal and general health: relationship and management. Indian J Endocr Metab. 2012;16:89-93.
5. Shah M, Rehan A, Zakir S. Effect of obesity on periodontal disease. Pakistan Oral Dent J. 2015;35:628-630.
6. Ofei F. Obesity-a preventable disease. Ghana Med J. 2005;:98-101.
7. Sanchez-Ramirez D, Long H, Mowat S, Hein C. Obesity education for front-line healthcare providers. BMC Medical Education 2018;18:278.
8. Bertapelli F, Pitetti K, Agiovlasitis S, Guerra-Junior G. Overweight and obesity in children and adolescents with Down syndrome-prevalence, determinants, consequences, and interventions: a literature review. Res Dev Disabil. 2016;57:181-192.